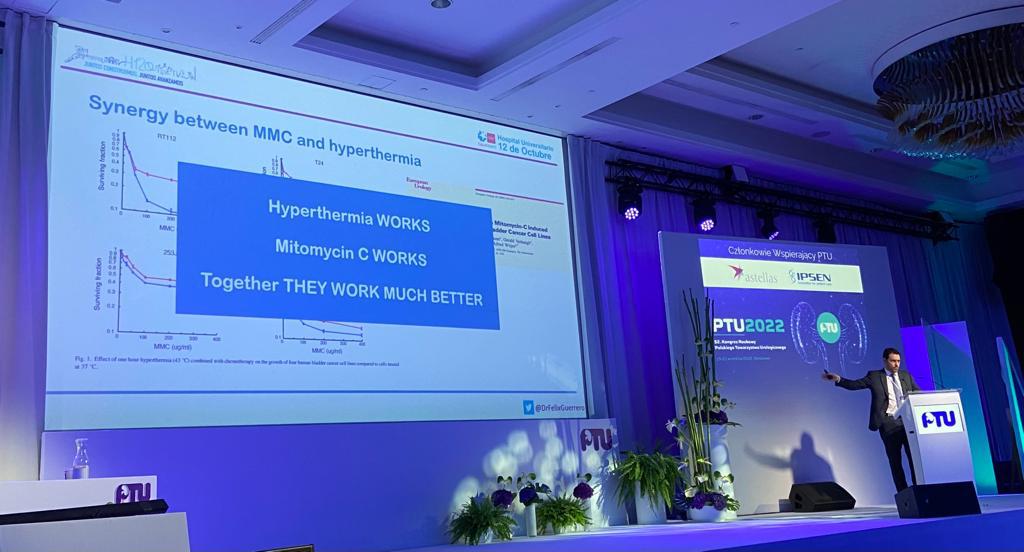 A new randomised clinical trial shows that HIVEC® – recirculating hyperthermic intravesical chemotherapy with mitomycin C (MMC) – administered by the Combat BRS system is as efficacious and safe as BCG treatment for high-risk, non-muscle-invasive bladder cancer (NMIBC), with the results presented yesterday (September 20) at the 52nd Annual Meeting of the Polish Urological Association in Warsaw.
The HIVEC-HR pilot phase II randomised clinical trial was conducted between November 2016 and March 2021. Post-TURBT, 50 patients were randomised 1:1 to receive either HIVEC® (40mg MMC, instilled with BRS for 60 mins at 43° ±0.5°C in weekly installations for 6 weeks, followed by monthly installations for 6 months) or intravesical BCG (50mg instilled weekly for 6 weeks, then weekly for 3 weeks at 3, 6, and 12 months).
The primary endpoint of recurrence-free survival at 24 months was 95.0% for HIVEC® patients in the per-protocol analysis compared to 75.1% for BCG (p = 0.064). Secondary endpoint results included:
Progression-free survival: 100% for HIVEC® 100% vs 75.1% for BCG (p = 0.018)
Time to recurrence: 21.5 months for HIVEC® vs 16.1 months for BCG
Overall survival at 24 months: 91.5% for HIVEC® vs 81.8% for BCG
Lead author Dr Félix Guerrero-Ramos said, "We have had several BCG shortages over the past 11 years and we expect more in the near future. Every urologist has chosen a different alternative according to availability, but now we have scientific evidence supporting the use of MMC-HIVEC as an alternative to BCG in the group of high-risk non-muscle invasive bladder cancer patients. This is especially important not just with BCG shortages but also for patients with intolerance or contraindications."
Increasing body of positive data for HIVEC
The study adds to the positive data from a series of other HIVEC® studies. In the largest study to date evaluating the efficacy of HIVEC® in BCG-unresponsive NMIBC patients, Pijpers et al (2021) showed HIVEC® to be a "well tolerated and safe bladder-sparing treatment", with 1 and 2-year recurrence-free survival rates of 53% and 35% respectively. The results exceed those defined as clinically meaningful by the International Bladder Consensus Group and are superior to all FDA-approved drugs in terms of recurrence and progression rates.
Furthermore, the recent HIVEC-E trial (Plata et al, 2021) found that HIVEC® using BRS was "an efficacious and well-tolerated alternative for patients with intermediate- and high-risk NMIBC" and noted that "HIVEC MMC in primary tumours and intermediate-risk patients offers the best treatment results".
More than half a million new cases of bladder cancer are diagnosed each year, with 0.2 million deaths annually. Around 75% of patients present with NMIBC, with maintenance BCG regarded as the best bladder-sparing treatment for high-risk cases. However, BCG administration is far more toxic than chemotherapy and global shortages have compromised patient outcomes for over a decade. The advantages of HIVEC® as a bladder-sparing alternative to BCG include improved drug delivery and penetration into the bladder, enhanced chemotherapy efficacy in heated cancer cells and the triggering of local anti-cancer immune reactions.
Guy Cooper, Sales and Marketing Director at Combat Medical, said, "We are very grateful to Dr Guerrero-Ramos and his colleagues for publishing this excellent and important research and for promoting it internationally. Poland is a key market for us and this allows us to build on the sterling work of our partner Meden-Inmed. We are proud to be able to bring an alternative treatment to bladder cancer patients in Poland and worldwide."